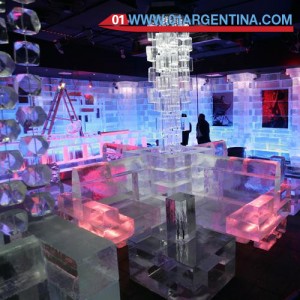 The eternal and beautiful Bariloche has opened an attraction to delight visitors and become the only bar in possessing these characteristics. A 8 degrees below zero does the new Ice Bar in Bariloche.
IceBariloche is a bar built entirely of ice, walls, tables and furniture frozen water inside which a temperature of between five and eight degrees below zero is preserved. This innovative space opened its doors in mid-August 2012 and by its size and technology equipment, is among the five best and biggest in the world. In total, it covers 380 square meters divided into different sectors, some with normal and one with temperatures below freezing, which has 90 square meters of surface ice.
To build this bar, about 40,000 kilos of ice between the tables and chairs, bars and walls were used. The non-slip PVC floor and furniture were carved by local artist José Luis Mezquida. The ambience of the pub tries to emulate the colors seen during internal hiking on glaciers, which dominate the blue and white.
Located in the  center of Bariloche, is the largest IceBariloche bar in South America with 380 square meters. The facility has a cold room of 90 m2, living rooms and bars where different units so acclimated to feeling like you're at the bottom of a glacier.
Due to the low temperature, visitors are provided with an insulating layer and can stay only 20 minutes into the new bar. Visitors to the new attraction Bariloche, one of a kind in Patagonia, enjoy a unique experience thanks to the facilities along the spectacular show of lights, music and videos and some delicious drinks.
After visiting the site below zero, you can explore other areas to warm temperature and taste delicious drinks and a hot chocolate, coffee or tea. The main aim is that visitors feel you are walking inside a glacier and therefore dominated by blue and white lights and tables, chairs and walls built with more than 40,000 kilos of ice.
Admission to the bar is done by groups of up to 20 people who remain on the frozen grounds up to 25 minutes. Before entering, are provided with thermal protection layers for cold environment, allowing not feel cold and fully enjoy a unique feel accompanied by pictures and furniture made ​​in ice, and lighting effects and music, which generate a huge impact on all those who enjoy a scenic tour as entertaining theme.
Location
Spain 476 Street and Beruti 8400 San Carlos de Bariloche
Cost of Entry
The cost of admission to the bar is $ 150 and includes one drink in a glass of ice. Before entering, you can wait at the bar dry and enjoy there or drink inside the ice bar. Furthermore, in dry areas can remain outside the bar to prolong the evening.
Schedules
Mon – Sun: 19:00 to 2:00
Contact
Telephone 0294 443-7681
Email icebariloche.admi@gmail.com
Glaciarium is located in El Calafate. This is the first interpretation center on glaciers and their surroundings, as expected, is on the shores of Lake Argentino, in lands acquired from Anita stay.
The building of 2,500 m2, was inspired by a glacier morphology: the front is concrete peaks very near Perito Moreno. In art, architecture was in charge of research and Cordeyro Guiraldes.
"El Calafate is visited 330 thousand tourists per year, only to see it coming, and there was until now a museum that explained them what is important is that the glaciers in the world" explains director Luciano Bernacchi. Associated with Jorge Insua and Ignacio Jasminoy, including Argentine businessmen, the team is completed with the scientific direction of Pedro Skvarca, major local glaciologist.
"There are very few museums of its kind in the world. We connect with the most important of its kind remaining in Norway, and we maintain a close relationship "continues Bernacchi.
With an investment of u $ s 4,000,000, to realize the museum called Hector Berra Berra Borrasca studio (which made ​​the projection on the occasion of the Bicentennial Columbus conceived the show Opera Pampa, among others.). He took care to explain attractively simple and something that could be, a priori, a hard and difficult subject. In that plan, one of the hits of the proposal is the room dedicated to Climate Change, a tunnel in which 28 projectors bombard the visitor with images speak for themselves on this severe problems plaguing the planet. There is also an auditorium for film cycles related to the theme of the museum will be screened.
In the basement, visitors will be surprised with the first ice bar this side of the world, with tables, glasses, floor and walls of ice as in big cities who worship the cold.
Glaciarium. Every day from 9 to 20 www.glaciarium.com.  Tours  El Calafate