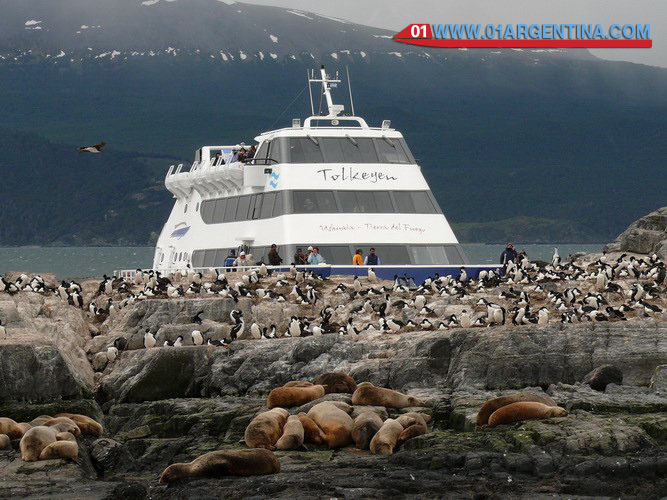 Did you hear the wonders of the southernmost city in the world? If you are thinking of organizing a trip to Ushuaia, today we offer you a small guide so you do not leave out any details.
As we know, temperatures are below zero, but at the same time, the lodgings, restaurants, shopping malls, tourist transport and commercial premises are very well heated so do not worry, they will be exposed to the cold in some excursions in Ushuaia but the Nature is so wonderful that you will not have time to think about it.
Because of its geographical location, Ushuaia is one of the cities that attracts the most tourists in Argentina. Its landscapes, fauna and flora love its visitors and make them want to return once they are gone.
Planning a trip is to start living it, so we want to accompany you at the moment with five essential tips so that you do not leave any detail at random.
1- Reserve means of transportation in advance
Airfares to Tierra del Fuego are not usually cheap, so if you organize yourself with time and reserve them, you will get better prices. The ideal period for buying low-fare tickets is usually between five and three months prior to the trip. Usually you will see that there are certain days cheaper than others to fly, if you manage to be flexible with the dates, you can also save even more money. The city of Ushuaia has an airport.
2- I chose the ideal time for the type of trip that you want to do
Ushuaia covered with snow is a beauty and an adventure for sports lovers, but from December to March is when there is even more variety of activities. If you enjoy trekking or enjoy the beauty of the lakes, these are the ideal months for your trip. In the summer season there is a great variety of excursions, both in Ushuaia and in El Calafate and El Chalten.
3- Look for accommodation and information about the city.
A good idea to know more about a destination is to have information about the place. So you can take advantage of every detail of what this city can offer you. In our excursions we have guides who can answer all your questions and give you information about the history, fauna and flora of each destination.
In terms of accommodation, you have to anticipate that in the summer season is often requested, so you get more variety to choose and better prices if you book in advance.
4- How to dress
The weather is not very stable and temperatures are often changing. It is very rare to find an over-hot day in the city of the end of the world.
The best solution is to dress in several layers of clothing as we recommend in the post on "What clothes to bring to the end of the world". In this way, you will never suffer sudden changes of temperature throughout the day. Remember to wear windbreaker jacket and trekking shoes.
Due to the lack of knowledge about the weather and the temperatures that we have in Ushuaia, we have put together a guide full of recommendations so that you know what clothes to bring to the end of the world at any time of the year.
We believe that it is advisable to put together a varied wardrobe to visit Ushuaia, since in one day you can have several types of climates. It is not surprising that in the morning there is a radiant sun, then wind, hours later rain and depending on the time of year snow and finally the Beagle Channel gives you a rainbow; It is also known that in the valley or in the mountains temperatures are lower than you can find in the city.
A good footwear and jacket is essential.
Hot feet, hot body … not to neglect the extremities of the body which is where more body heat escapes us.
That's why we recommend bringing gloves, scarf and hat as you may not use it but it will not be too much in your bag.
• An ally for the legs, is to wear thermal underwear either under the snow pants or jeans.
• Regarding footwear, the most suitable are shoes with rubber soles, waterproof where possible and with good grip for walks.
• As a non-minor accessory, sunglasses will be useful as well as a sunscreen.
• A backpack or small bag will be useful to you when making any excursions, or if you want to go part of the city on foot and decide to take some mates, our recommended place is the low mission from where you can see the city from the front. You can also book a City Tour that will take you to the traditional places ending the tour at the Museum of the End of the World.
For those who visit Ushuaia in winter, we recommend the same detailed clothing and if you plan to visit Cerro Castor know that you can rent in the center of the city all the clothing you need to enjoy skiing or snowboarding in the southernmost winter center of the world .
Extras: Binoculars